Bortom materialen, genom materialen, in i situationen, där du är nuet; med förhoppning om samarbete från betraktarna av utställningen.

︎

Beyond the material, through the material, into the situation, where you are the present, hoping for cooperation from the viewers of the exhibition.


A series of six sculptures in social situations.
30 Years with the Maria Bonnier Dahlin Foundation - installation view 22 May - 28 Aug 2016
Bonniers Konsthall ︎

Excerpt from catalogue ︎

Excerpt from publication ︎
Materials: Remnants from building two sofas and a table meant for outdoor use, impregnated wood, pinewood, studding, wood glue, acrylic mass both indoor and outdoor type, small plastic foot cushions, a smoky sapphire whose colour resembles one of my fathers eyes, super glue, bathroom silicone, boat lacquer, sawdust, dust, sticks, oak wood, white acrylic paint, grey filler, wood that others have thrown away, mostly pinewood, many small sticks of fibreboard, copper paint, board material, parts of a chair, acrylic paint in a scale of brown towards grey but also some yellow, a mask that used to look frightening but perhaps not now, my old hairbrush but without the pad or the needles, acrylic paint in a scale of brown and green but also with yellow and red, remnants from building a coffee-table, ash wood, handles from tools, dowel made of beech, white cable clips without it's nails, green plastic wedges, screw nuts, part of a reindeer horn, broken attachment from a necklace, joiners plane and its blade in different places, round door details made of stainless steel, a table-leg made of stainless steel, chrome paint, silver paint and chocolate paint.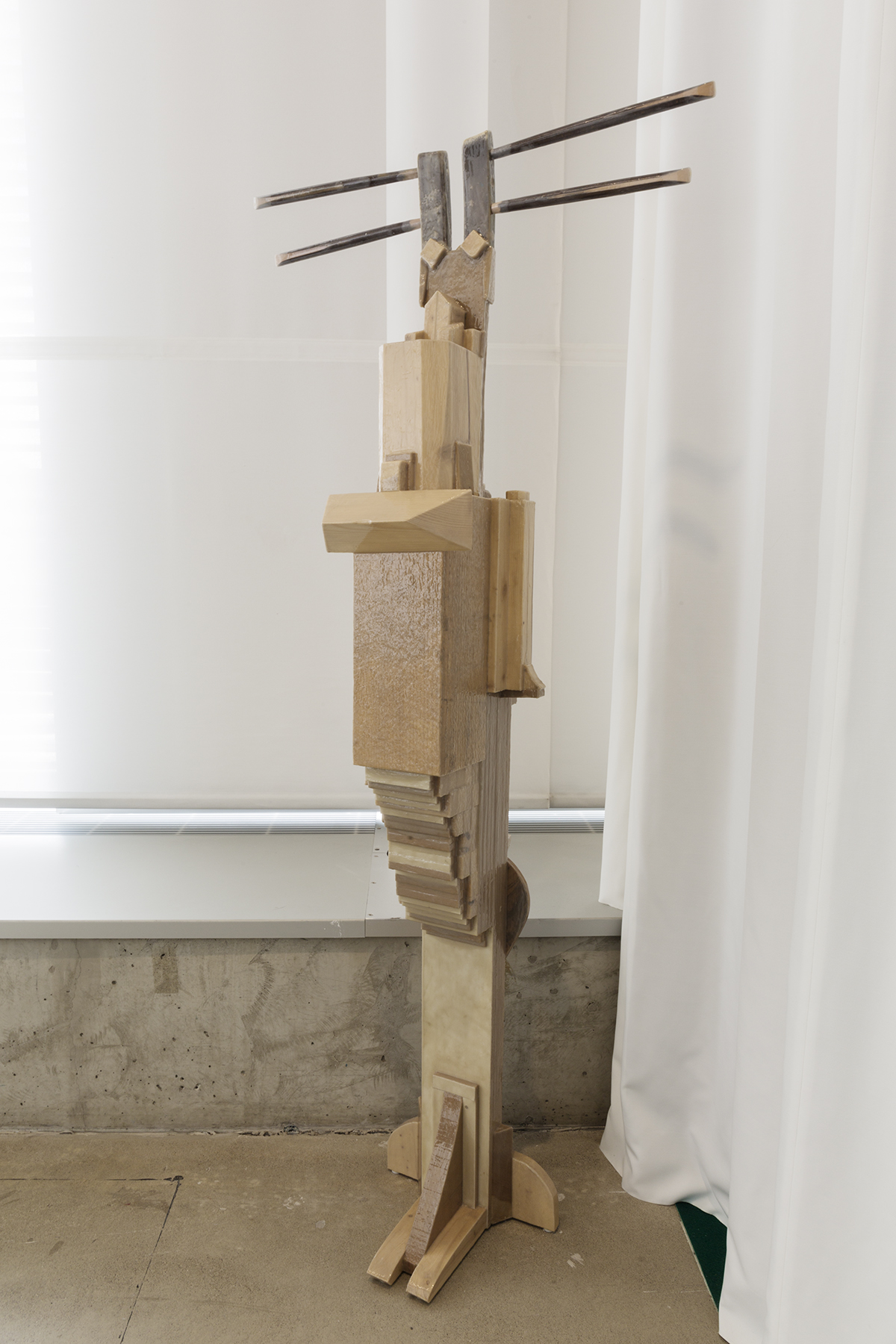 Photo credits: Per Kristiansen, Johan Österholm, Max Ockborn
COLLECTED WORKS! 30 YEARS WITH THE MARIA BONNIER DAHLIN FOUNDATION
22 MAY 28 AUG 2016
Just what has happened in the Swedish art world since 1986? Over the past 30 years, the Maria Bonnier Dahlin Foundation has supported young artists. This group exhibition, featuring art from all 79 grant recipients, will offer a unique overview of Swedish art history.
The Maria Bonnier Dahlin Foundation was established by Jeanette Bonnier, in memory of her daughter Maria, who lost her life in a car accident at the age of 20. Studying architecture at Columbia University in New York City at the time of her death in 1985, Maria was involved in the young art scene at the time. Trend-setting artist Keith Haring, a close friend of Maria's, created the painting "For Maria June 1985" as a tribute to her life. We now celebrate the foundation's 30th anniversary with a large group exhibition at Bonniers Konsthall.
The Maria Bonnier Dahlin Foundation has consistently looked for the new and innovative, and supported young artists. Past grant recipients work within a wide variety of methods and expressions, and the exhibition therefore includes a broad spectrum of paintings, sculptures, videos, drawings, subjects and installations.


The pieces shown in the exhibition has been purchased by the foundation from the artists as they were awarded the grant. Each work offers a snapshot of a specific artistic practice and time, but together they also embody the developments in Swedish art over three decades. What was cutting edge in the 1980s and 90s is now cultural history, even considered cultish. Working conditions have altered, influences have shifted and digital advancements have created a radically new framework for art and artists.
The foundation continues its work by awarding annual grants to young Swedish artists. The 2015 grant recipients were sculptors Caspar Forsberg, Linus Nordensson Spångberg and Max Ockborn, who will exhibit entirely new work at the exhibition.

A comprehensive book, edited by Niclas Östlind and published by Bonnier Fakta, will accompany the exhibition. The book is based around new interviews with the grant recipients, in which they discuss their work at the time when they received the grants, what inspired them, just what was taking place in the art world at that time and what they consider to be the greatest shifts that have taken place – all from their individual perspectives. In addition, we get to know about their current endeavours. Along with extensive image- and archival material, both the book and exhibition offer unique insights into the Swedish art world from the 1980s to the present.